Soon to be launched PATENT PENDING RAISABLE KNIB.
This will be featured on the new COG Aline Marker which uses Fleet's COG drum system.
Available for demonstrations now, contact our sales office today on 01684 573535 to arrange.
* No deposit required
* Guaranteed for life
* Wear and Tear covered free of charge – we will swap out/ fix the machine

The MAQA has been the go to GNSS/GPS guided line marker since it's official launch in 2017. Fleet are now offering the system with
NO DEPOSIT
... meaning no heafty upfront charges. Customers pay the monthly charge of £228.17 and the usage of 1p per metre marked with
NO MINIMUM CHARGE
.
The option will give even more customers access to GNSS guided marking saving time and labour in initial and over marking situations.
Contact our sales office today on 01684 573535 to organise a demo and discuss direct debit options.
* No deposit required
* Guaranteed for life
* Wear and Tear covered free of charge – we will swap out/ fix the machine

Contact our sales office today on
01684 573535
to discuss direct debit options.
Fleet makes large investments in R&D, and legal action will be taken against any person or company which infringes any of Fleet's intellectual property.
Fleet and BeamRider are the most technically advanced innovative Companies in line marking, who manufacture and supply laser guided line markers and GNSS guided line markers.

We are very proud to have many patents granted and more in the process of being granted.

BeamRider hold a granted EP Patent No. EP3045998 for the actuating marking arm.

Swozi AG has challenged the validity of this patent and this will be debated at an EPO (European Patent Office) hearing.

BeamRider have been advised that this is a particularly strong patent and expect it will be upheld.

We take our patents very seriously and because of the revenue received directly and indirectly from them means that the Fleet and BeamRider product range, including paints, are continually making the Grounds person's job easier, more cost effective, as well as improving quality.
1970's Fleet introduced the first ready to use line marking paint – Pitchmarker B

1980's Fleet introduce a concentrated ready to use paint - Pitchmarker Q2

Since then "ready to use" line marking paint has become more and more concentrated and in many cases is only cost effective if the machine and paint is capable of spraying a football field using less than 1 litre of paint.

Fleet and many other line marking companies have done a lot of development in order to produce such a concentrated paint. Fleet Droo and Fleet Fort being prime examples.
---
SOME TECHINAL FACTS FROM THE LAB ……..

Some companies have marketed these paints as scientific breakthroughs, and magical hype ……. these paints may be more concentrated, but all of them still use Titanium Dioxide for whiteness, and often this is extended by CaCo3/China Clay or enhanced by "Optical Brighteners" ….. or fluorescent whitening agents, are used to make plastics, fibres, coatings, inks, and detergents appear whiter and brighter.

These products function by absorbing invisible ultraviolet light and re-emitting it as visible light in the blue range of the spectrum.

Fleet do not at the moment use them. There are studies that show concerns over skin irritation and operator exposure. Therefore until Fleet are 100% satisfied that there is no toxic effect on our customers, there will not be any optical brighteners included in Fleet formulations.
---
A CASE STUDY

Fleet receive another call from a customer who is using a competitors concentrated ready to use paint.

He was NOT a happy man, he said that he was sold the system as an advancement, and he chose the system in order to save money, and still get a quality line, as he did before when he used Fleet paint.

Bill the groundsman was informed that he could use 1 litre of paint for one football pitch.
1. This was impossible unless he ran (very fast)
2. He found all the nozzles blocked.
He contacted the competitor company who very kindly gave him
FREE BIGGER NOZZLES
, this meant that he was using far more paint than he had budgeted for, and the cost of marking was far more expensive than using his previous Fleet system.
Bill however thought the lines looked "great" using more than 4x the volume of paint.
Bill's accountant however had a complete meltdown, as Bill's line marking cost had multiplied by 4!!
Bill is now marking with Fleet SCAPE, the lines are great, and Bill now is saving lots of money.
---
CONCLUSION:

Ready to use paints are acceptable ONLY
1. If they do actually spray through the very fine nozzles, that the adverts say they can.
2. If the price of one litre of paint is at least a quarter of the cost of a litre of a quality concentrate paint, given that the concentrate can be diluted by 12 parts water to one part paint, …. Eg Fleet Pitchmarker Super C.
3. Or if the convenience of ready to use is worth the money of the extra expense of the paint. In Bill's case this was over £20,000 a year.
Fine nozzles are susceptible to blocking, especially in hot weather, a Flozle nozzle system is recommended by Fleet for all concentrated low application paints.
If you are USING A READY TO USE PAINT and spending more money than you budgeted, Fleet have a policy of changing your line marking system to another system FREE OF CHARGE.
---
ACTION
CONTACT A FLEET SALESMAN …. FLEET EMPLOY MANY GROUNDS EXPERTS WHO HAVE ACTUALLY DONE THE JOB…. DISCUSS ANY IDEAS, CALL
01684 573535
TODAY WITH ABSOLUTELY NO OBLIGATION.
Turnaround of our 18 winter pitches at Wellington College has always been a time consuming and labour intensive affair. We have five pitches available for various sports usage throughout the summer lets period, these can regularly change from rugby to football and any other pitch they require and requests are often at short notice.

Once this has finished we need to initial mark 14 rugby pitches, 3 football pitches, a lacrosse pitch and 3 lots of training grids during August for the start of the Michaelmas Term in September.

At Christmas we need to change some of our rugby pitches over to football, then at Easter we need to initial mark 8 rugby pitches for a week-long Rugby Festival. Once that is over we need to initial mark our 400m track, javelin and discus in a very quick turnaround for the start of the summer term.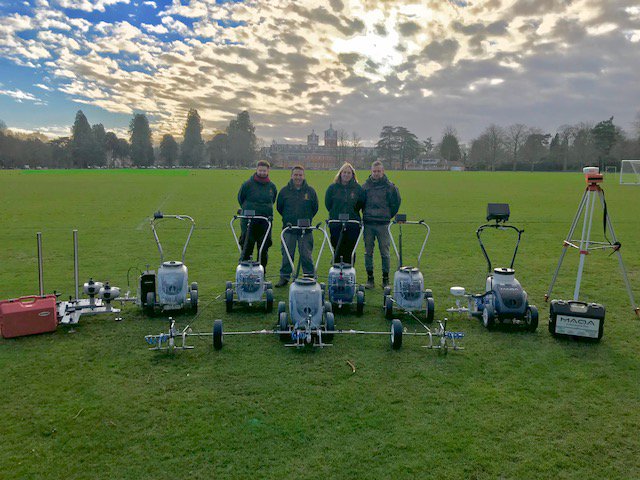 Continue Reading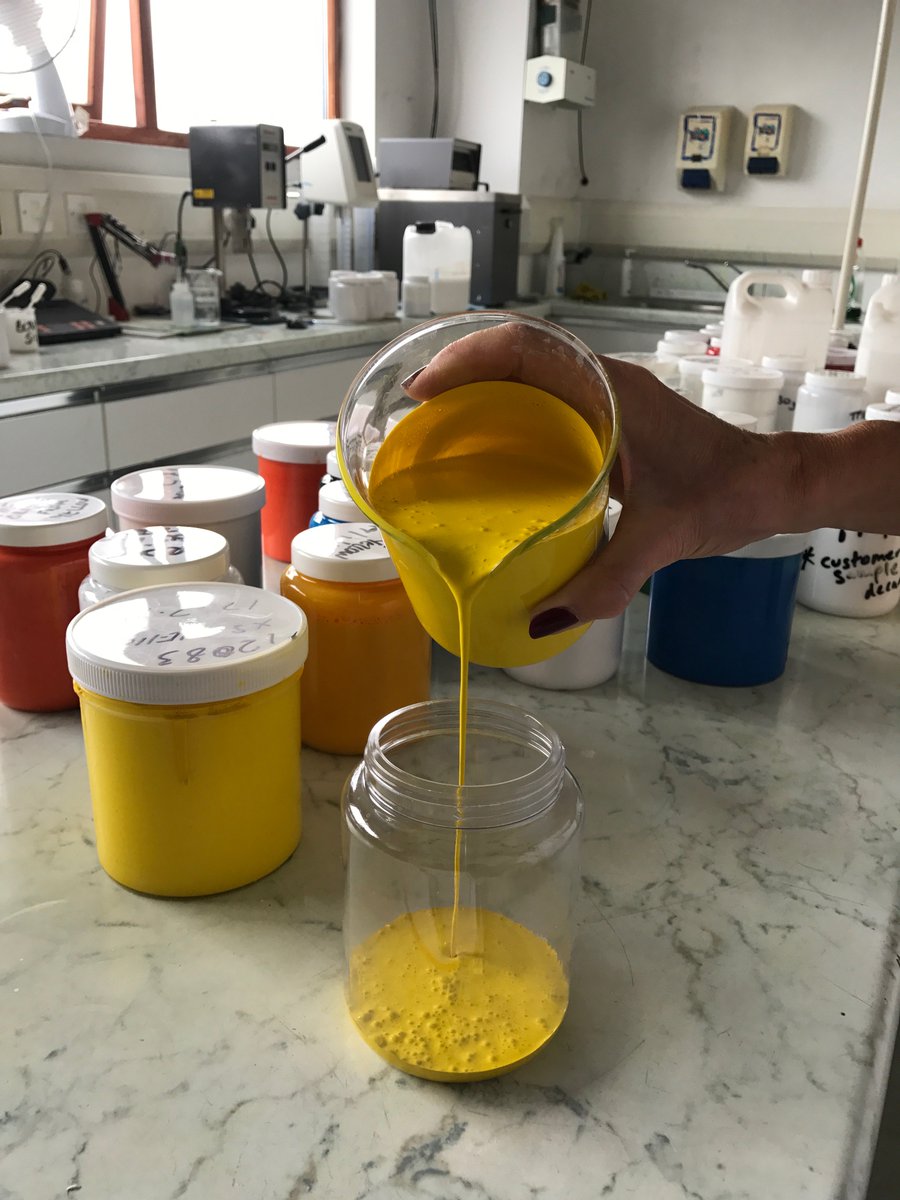 The year has started with an exciting buzz after delivery of first of two spectrometers, one located in our UK laboratory and the other destined for our Labs in Asia. These give us the ability to monitor at "element level" all raw materials as well as Quality Control what we produce and ship as finished Fleet product.

3 new paint mixers have also been ordered and are due for delivery in March, these will increase the output and variety of products Fleet can produce.

Iain McGuffie stated "I believe this maintains Fleet as having the largest manufacturing capability and most bought product in the European sports line marking paint market by far, if you include the Fleet America and Fleet NZ manufacturing operations, this makes Fleet the brand of choice world wide".

What does this mean for the customer? It means that fleet manufactures the best available products at the best price, and does it cleanly, as Fleet always looks after the environment.